TLC School Transport
At TLC we are committed to enriching the experience of our students by organising educational visits using our school transport minibus. These visits may be to a local venue or further afield to Paphos or any number of significant sites that are in abundance in Cyprus.
We have our own mini-bus and fully qualified PSV driver, Michalakis Kyriakou (Mike). Mike is a very experienced driver and is employed full time at TLC to carry out many duties which means our students know him and feel secure around him. He, in turn knows the parents of those he transports to and from school each day. Mike treats our bus as his own, carrying out daily checks, cleaning it inside and out, ensuring that servicing is up to date, etc.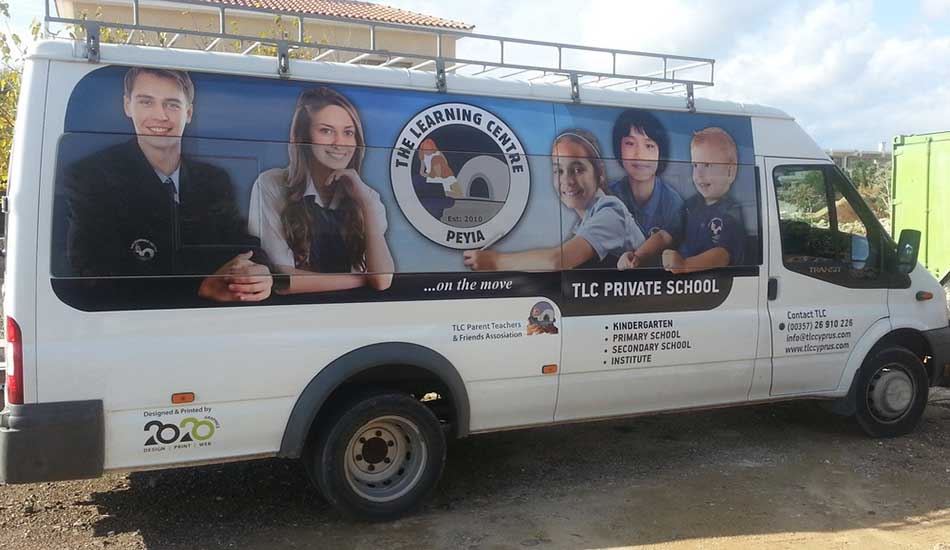 If it's passed you on the road, it's unlikely you will have missed our bus as it's been heavily decorated with our logo and images of students.
Our bus enables us to travel to venues very easily for educational visits, university exhibitions, sports matches, etc. For some students this bus operates as a daily taxi to and from school. We pick up and return children to and from their homes for a very reasonable daily charge that can be calculated and included in fee illustrations if required. Please ask or email for further information.
Our school bus is operated in accordance with the transport regulations in force on the island and for your reassurance, is maintained by qualified mechanics.